You can now join or renew online. Or, Download a membership form and mail it to us.
Either way, we are excited to welcome current and new members to the League!
Join the Westford LWV as we gather to celebrate the holiday season at the J. V. Fletcher Library Meeting Room on Wednesday, Dec. 7 at 7:30 p.m. After a few years of virtual holiday get-togethers, we'll finally be meeting in person. All are welcome to join us – catch up with fellow members and friends, or come by to learn more about what the League does. Light refreshments will be served, so we would appreciate a RSVP so we can plan accordingly. Please RSVP online by clicking here.  We hope to see you at the League's holiday gathering!
The League of Women Voters of Westford is a group of women and men of all ages and backgrounds with the common interest of "Making Democracy Work." The League's goal is to encourage active and informed participation of citizens in government.
Community Substance Use Disorder Forum, Dec. 7, 6 p.m.
The Town of Westford Community Wellness and Health Departments are holding a Community Substance Use Disorder Forum on Wed. Dec. 7 from 6 – 7 p.m. The meeting will be held online. Click Here to join the meeting. They would like to hear ideas for additional resources that could be provided to the Westford community.
Select Board to Interview Finalist for New Town Manager
The Select Board is scheduled to meet on Saturday, Dec. 10 at 9:30 a.m. to interview finalists for the position of the next Town Manager. The posted agenda says that at 1:30, they will "Consider new Town Manager appointment."
The meeting, in the Town Hall upstairs meeting room, is open to the public, though attendees will not be able to ask the candidates questions. WestfordCAT will broadcast the meeting live and record it for playback online; both will be available for viewing here.
The finalists will be chosen by the Town Manager Search Committee, which received 26 applications to replace Jodi Ross, who is retiring on Jan. 3.
Click the following link to see the slide show: Westford Net Zero 2050 Slide Show
The following bills have recently been supported by LWVMA. Contacting your state representative or state senator is a great way to let them know if these issues are important to you as well
H.3152/ S.2082 An Act to modernize participation in public meetings. This bill would require remote access to public meetings. (Specialist area: Good Governance)
H.1643/S.1112 An Act improving protections relative to domestic violence. This bill would add coercive control to definition of domestic violence (Specialist area: Children and Families).
H.1377/S.868 An Act empowering cities and towns to support affordable housing with a fee on certain real estate transactions. This bill allows cities and towns to raise real estate transfer fees dedicated to affordable housing. (Specialist area: Affordable Housing)
Click the video below for an overview of Town Committees: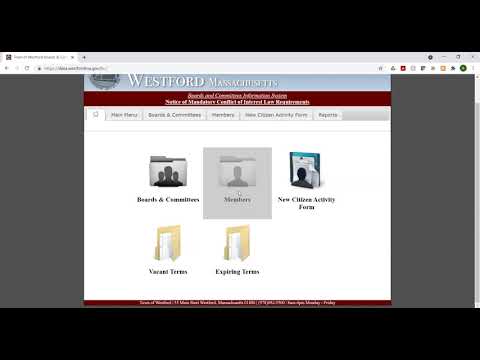 Click the Links below for individual committees:
Clean Energy and Sustainability Committee
Pedestrian Safety Committee
Recycling Commission
The Westford LWV publishes a set of three booklets.  Read them all!
Guide To Town Meeting
Updated in October 2020. Be prepared and informed when attending Annual & Special Town Meetings! Publication of the Guide was partially funded by the League of Women Voters of Massachusetts Citizen Education Fund.
Everything you need to know about town government in one handy booklet! Published in March, 2018.
Thinking about running for local office? Check out the League's Guide to Running for Local Office.
How well do you know your home town?  Try out our NEW Kahoot quiz of Westford trivia and test your knowledge of Westford's government, geography, and history.  We recently played this Kahoot at the 2021 December Civic Social and had a blast! You can play it in a web browser or using the Kahoot mobile app.